World: Asia-Pacific
Anwar sex claims 'were false'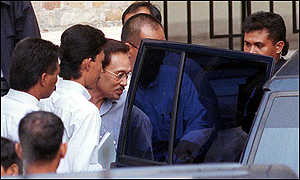 Anwar Ibrahim being escorted under heavy police guard


A senior Malaysian police officer has disclosed that he found indications of a conspiracy to smear the former deputy prime minister, Anwar Ibrahim. Mr Anwar is on trial for alleged abuse of power and sexual misconduct.

Under cross-examination by the defence, the head of the police intelligence branch, Mohamad Said Awang - a witness for the prosecution - read from a report he sent to the Prime Minister, Mahathir Mohamad, in August last year.

In it, he said allegations of Mr Anwar's sexual misconduct had no truth, and certain groups appeared to be working behind the scenes to smear him.

The judge ordered the prosecution to look for a second document, which the defence says implicates allies of the prime minister.

The sister of Mr Anwar's former private secretary, Ummi Hafilda Ali, and his former driver, Azizan Abu Bakar, accused Mr Anwar of adultery and sodomy in August 1997.

They later retracted the allegations, which are at the heart of Mr Anwar's corruption and sex trial in Kuala Lumpur.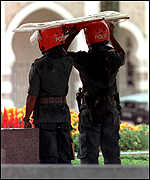 There has been a strong police presence around the court

Reading from the 1997 police report Mr Said said: "Through our sources, the allegations do not have, (or) contain, any proof, and the sequence of events appears to be deliberately created.

"There are indications that there exists a certain group that may have their own agenda and played a role behind the scenes to urge Ummi and Azizan to smear Datuk Seri Anwar Ibrahim."

The report, signed by Mr Said, was sent to Prime Minister Mahathir Mohamed in August 1997.

Allegations were ''baseless''

Dr Mahathir sacked Mr Anwar as the deputy prime minister and finance minister in September.



Mr Anwar was subsequently charged with five counts of corruption and five of sodomy which he has denied.

He is currently on trial for four of the corruption charges which claim he used his power to interfere with Mr Said's investigation into the accusations of sodomy and adultery.

Mr Said told the court that Mr Anwar had urged police to get Ms Ummi and Mr Azizan to retract their allegations, which they eventually did.

His report said the allegations by Ms Ummi and Mr Azizan were "baseless and more dependent on imagination and assumption".

It said Ms Ummi was driven by the suspicion that her sister-in-law Shamsidar Taharin was having an affair with Mr Anwar.

Mr Azizan levelled his accusations because he was influenced by Ms Ummi and disliked "the arrogant attitude" of Ms Shamsidar, the report added.

Plot to bring down Anwar

Mr Said, a key prosecution witness, said he did not think he had concluded that there was a politically motivated plot to topple Mr Anwar.

But he may have mentioned that a close friend of Dr Mahathir's, Malaysia's Special Functions Minister Daim Zainuddin, was part of the scheme to bring down Mr Anwar.

The defence has asked for a copy of a second report which, it says, contains the names of Mr Daim and Domestic Trade Minster Megat Junid Megat Ayob.

Mr Said, who has admitted while giving evidence that he would lie under oath if told to by his superiors, said he did not think such a report existed.

Mr Anwar's sacking and subsequent detention has provoked widespread political unrest and anti-government demonstrations in the capital.