Monday, November 9, 1998 Published at 11:19 GMT

World: Asia-Pacific
Anwar team presses conspiracy theory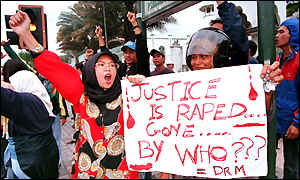 Anwar supporters protested on Saturday


The trial of former Malaysian Deputy Prime Minister Anwar Ibrahim has entered its second week with heated arguments over a mystery police report. Defence lawyers have said missing documents implicate at least two government ministers in a 1997 plot to drive Mr Anwar from office through allegations of sexual misconduct.

On Monday, the prosecution denied the existence of any such papers.

The defence says a report dated 3 September 1997 mentions senior government allies of Prime Minister Mahathir Mohamad and is a crucial piece of evidence for the defence.

The judge has ordered the prosecution to produce an active member of the police intelligence wing to testify on the matter.


Pro-government newspapers have been burned

Last week, the outgoing head of police intelligence, Mohamad Said Awang, said under cross-examination from Mr Anwar's lawyers that his investigations had cleared Mr Anwar of sexual misconduct and found there was evidence of conspiracy against him.

Defence lawyer Christopher Fernando asked Mr Said to produce in court the report naming senior members of Dr Mahathir's government. Mr Said said he was not certain if he had written such a document.

Mr Said also said he would lie to the court if told to do so by his superiors or the government.

Mr Anwar, who was sacked by the prime minister in early September, faces charges of abuse of power and illegal sexual activity.

Damaging testimony

Malaysian and foreign lawyers observing the trial said Mr Said's revelation severely undermined the credibility of someone intended as a key prosecution witness.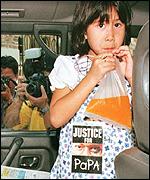 Anwar's six-year-old daughter shows her support

It is not yet clear what impact it will have on the prosecution's case. The current trial focuses on charges that Mr Anwar used his office to interfere with a police investigation into allegations of sexual misconduct.

In an interview with Time magazine released on Sunday, Mr Anwar said the charges against him were a "vile character assassination" formulated to prevent him becoming prime minister.

In written answers smuggled out of prison Mr Anwar said he believed the prime minister was "drunk with power" and had lost all sense of rationality and sanity.

'Severely beaten'


Some protests have met with a firm police response

"In his desperate attempt to cling to power, he has no qualms about using all instruments of government to serve his ends," Mr Anwar said.

After his arrest on 20 September he said he was "severely beaten on the head, neck and face" and rendered "somewhat unconscious".

Later he says he was told that Prime Minister Mahathir was "monitoring developments by the minute".

Mr Anwar was sacked by Dr Mahathir following disagreements on how to steer the country out of the regional economic crisis. The prime minister described him as "morally unfit" to lead the country.

His trial has become the focal point of political dissent in Malaysia, and his supporters have mounted sporadic anti-government street demonstrations since his detention.