Malaysia's intelligence chief tells Anwar trial he would lie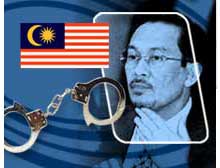 November 5, 1998 next article click here
Web posted at: 5:19 a.m. EST (1019 GMT)

KUALA LUMPUR, Malaysia (CNN) -- Malaysia's police intelligence chief, testifying in the corruption and sex trial of sacked Deputy Prime Minister Anwar Ibrahim, said on Thursday he would break the law and lie if told by superiors to do so.

Attorneys for the ousted deputy prime minister resumed their cross-examination of Mohamed Said Awang, who on Wednesday accused Anwar of meddling with the police investigation into his alleged sexual misdeeds.

Christopher Fernando, one of Anwar's nine defense attorneys, asked him: "If someone higher than the deputy prime minister were to instruct you to come and lie to the court here, would you do it?"

Mohamed replied: "Depends on the situation."

High Court Judge Augustine Paul interjected, looking somewhat alarmed, "So you may lie?"

"I may or I may not," the witness replied.

Gasps erupted through the public gallery of the federal courthouse filled with journalists, international human rights activists and members of Anwar's family.

"From your answer, you are a most unscrupulous man," said Fernando.

Crunch time for Malaysia
The trial is at the core of political tension in Malaysia, with Anwar supporters mounting sporadic anti-government demonstrations in the streets of the capital Kuala Lumpur since Anwar was arrested on September 20.

Anwar has pleaded not guilty to all 10 charges against him -- five counts of corruption and five of sodomy. He says the charges were fabricated because Prime Minister Mahathir Mohamad considered his popularity a threat to his 17-year rule.

In the trial's first phase, the prosecution is trying to prove the former deputy prime minister abused his power in August 1997 by interfering with a police investigation into alleged sexual misconduct.

In his testimony under prosecution questioning on Wednesday, Mohamed said Anwar had urged police to force a man and a woman to retract allegations that he had committed sodomy.

Twists and turns
Judge Paul adjourned the proceedings briefly on Thursday morning after Mohamed, who is set to retire from the police later this month after 30 years of service, said the defense had "twisted" his testimony.

"I'm sorry, My Lord, I'm not very calm this morning," a visibly upset Mohamed told the judge.

The defense team sought to discredit Mohamed's testimony by focusing on his avowed reluctance to disobey orders even if it meant breaking the law or lying.

"If you said you believed in the truth and you did not do anything that would bring disrepute to the police force, why did you at the request of the accused ask for these allegations to be retracted?" Fernando asked Mohamed.

The witness said he had been directed by the deputy prime minister, and that while he might not want to follow orders that clashed with his principles, he might have to do so.

"The situation is such that I may have to do it, despite of my belief," he said.

The 54-year-old Mohamed denied he was afraid of losing his pension.

Struggling under defense pressure
On Wednesday, Mohamed stunned the courtroom when he discussed a technique enabling police to get witnesses to change their stances for political ends.

Mohamed told the court on Thursday he had not produced a written report for Prime Minister Mahathir Mohamad after police persuaded the man and woman to retract their allegations of sexual misconduct by Anwar.

However, after intense cross-examination by Fernando, Mohamed acknowledged that he had given a report to Mahathir.

Fernando read to the court a newspaper report dated August 25, 1997, quoting Mahathir as saying he did not believe the allegations against Anwar.

Mahathir is among the 52 potential prosecution witnesses in the trial.

Stories within stories
Mohamed on Wednesday accused Anwar of trying to force police to cover up his alleged sexual misconduct. He testified that Anwar demanded intelligence officers to use a secret method called "Operation Turning Over" to intimidate two people who had accused him of sexual misbehavior.

A statement by Anwar's personal driver, Azizan Abu Bakar, said Anwar sodomized him 15 times. The other, by Ummi Hasilda Ali, the sister of Anwar's private secretary, said her brother's wife had sex with Anwar.

Mohamed testified Wednesday the cover-up method, a "great secret" he declined to reveal in court, worked. The two gave him retractions that Anwar demanded be forwarded to Mahathir.

On Thursday, Mohamed became flustered and dodged defense questions about how the Special Branch "neutralized" suspects they deemed uncooperative.

Mohamed said he agreed to get the retractions from Ummi and Azizan despite believing the sexual allegations.

Haunted by the past
Mohamed later told the court Anwar was justified in seeking a retraction of the allegations he had committed sex crimes.

He also recalled that he may have labeled the allegations false and baseless in the report he sent in August 1997 to Prime Minister Mahathir.

"I put it to you that since the allegations against him (Anwar) were false and baseless, it was perfectly legitimate for him to get retractions of those false and baseless allegations?" Fernando asked Mohamed.

"Yes," the outgoing police intelligence chief said.

Mohamed said he was not sure that the report he sent to Mahathir had concluded there was a politically motivated plot behind the sex allegations to drive Anwar from office.

But he said that in the report he may have mentioned that Daim Zainuddin, a close confidant of Mahathir who is now special functions minister, had met the woman who retracted the sex allegations against Anwar.

A question of morals
Mahathir fired Anwar on September 2, saying he was morally unfit to serve the Southeast Asian nation.

During the trial, Anwar has been spending most of his time in the dock taking notes on large sheets of paper and paying close attention to the arguments.

During breaks, either for lunch or when the judge leaves the courtroom, Anwar talks to his family or foreign diplomats who have been attending the trial that is being closely watched by human rights groups worldwide.

The case attracted international attention after Anwar showed up at his arraignment September 29 with a black eye and bruises. He claimed police beat him after his arrest.