Possible dirty tricks campaign against Malaysia's Anwar click for next article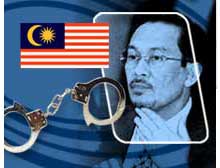 November 6, 1998
Web posted at: 1:12 a.m. EST (0612 GMT)

KUALA LUMPUR, Malaysia (CNN) -- Sex allegations against Anwar Ibrahim were false and possibly part of a shadowy conspiracy to smear the former finance minister, a Malaysian court was told on Friday.

Outgoing police intelligence chief Mohamed Said Awang, in the witness box for the fourth day, read to the capital's High Court the summary of a report he sent to Prime Minister Mahathir Mohamad in August 1997 concluding that the allegations were false and appeared "deliberately created."

The sister of Anwar's former private secretary, Ummi Hafilda Ali, and his former driver, Azizan Abu Bakar, accused Anwar in August 1997 of sodomy and adultery.

They later retracted the allegations, which are at the heart of Anwar's corruption and sex trial.

"Through our sources, the allegations do not have, (or) contain, any proof, and the sequence of events appears to be deliberately created," Mohamed said, reading the report.

"Apart from that, there are indications that there exists a certain group that may have their own agenda and played a role behind the scenes to urge Ummi and Azizan to smear Datuk Seri Anwar Ibrahim," the report said.
Conflicting evidence
Anwar, Malaysia's former No. 2 leader, is standing trial on 10 counts of corruption and sexual misconduct. He denies the charges and says they were fabricated because Mahathir considered his popularity a threat to his 17-year rule.

Initially, the court is examining four corruption charges that allege Anwar used his power to interfere with Mohamed's investigation into the accusations of sodomy and adultery.

Mohamed told the court earlier this week that Anwar had urged police to get Ummi and Azizan to retract their allegations, which they eventually did. The police officer then submitted his report on the matter to Mahathir.

The three-page report said the allegations by Ummi and Azizan were "baseless and are more dependent on imagination and assumption."

It said Ummi was driven by the suspicion that her sister-in- law Shamsidar Taharin, who is married to Anwar's former private secretary, was having an affair with the then finance minister.
False allegations
Anwar was accused in a recent book, "Fifty Reasons Why Anwar Cannot Become Prime Minister," of fathering an illegitimate child with Shamsidar. But blood tests later proved that Shamsidar's husband had fathered the child.

Mohamed's report said Azizan leveled his accusations because he was influenced by Ummi and disliked "the arrogant attitude" of Shamsidar.

In the summary of his report, Mohamed Said identified a sacked ex-police inspector named Mohd Taib as one of those who may have urged Ummi and Azizan to smear Anwar.

"One of them is Mohd Taib, who is said to claim himself as a Special Branch officer to the prime minister, when he is an ex-police inspector who has been sacked from the force," the report said.
Links to the top
Before the trial adjourned for the day, the defense asked for a copy of a second report it said was dated September 3, 1997, and contained the names of high-ranking political figures including Mahathir's chief economic adviser Daim Zainuddin and Domestic Trade Minster Megat Junid Megat Ayob.

Judge Augustine Paul, who will eventually pronounce the verdict in the case since there is no jury, asked the prosecution to try to obtain a copy of the second report

Since Anwar's arrest September 20, thousands of Malaysians have participated in street protests demanding his release and Mahathir's resignation.

The case attracted international attention after Anwar showed up at his arraignment with a black eye and bruises. He claimed police beat him after his arrest.
The Associated Press and Reuters contributed to this report.