Adopted brother of Anwar denied appeal by Malaysian court click for next article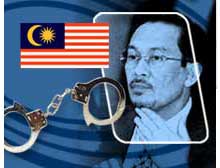 November 7, 1998
Web posted at: 1:43 a.m. EST (0643 GMT)

KUALA LUMPUR, Malaysia (AP) -- The Malaysian High Court on Saturday rejected an appeal for release from prison by the adopted brother of ousted deputy prime minister Anwar Ibrahim.

Sukma Dermawan, a potential key government witness in the sensational corruption and sodomy trial against Anwar, was sentenced to six months in jail September 19 after confessing to allowing himself to be sodomized by Anwar.

Last week, Sukma's attorneys filed an appeal saying he should be released from jail because, as a Muslim, he should have been tried by an Islamic court.

Justice Abdul Wahab Patail rejected Sukma's habeas corpus appeal Saturday, saying the lower Sessions Court had the jurisdiction to decide on the sodomy case against Sukma.

Munawar Aness, Anwar's former speech writer who was jailed along with Sukma, also has appealed his conviction. He said he was coerced by police into confessing to sex with Anwar.
Sensation from Day One
The first week of the dramatic case against Anwar, which has attracted international attention and observers, ended Friday with the defense having made significant gains.

The first prosecution witness, police intelligence chief Mohamed Said Awang, testified during cross-examination that he might lie under oath if asked to by superiors. He also said that a 1997 police document indicated there was a high- level conspiracy to unseat Anwar and coerce people into saying they had engaged in sex with him.

Prime Minister Mahathir Mohamad sacked Anwar as his deputy and finance minister September 2, saying he was morally unfit to lead, then had him expelled from the ruling party.

Anwar is standing trial on 10 counts of corruption and sexual misconduct. He denies the charges and says they were fabricated because Mahathir considered Anwar's popularity a threat to his 17-year rule.

The trial will resume Monday for one week. It will then adjourn for a week as Malaysia hosts 21 Pacific-Rim leaders for the Asia-Pacific Economic Cooperation forum.

Though the trial will be in recess, it is expected to cast a shadow over the summit. The presidents of neighboring Indonesia and Manila threatened to boycott the trade forum and U.S. President Bill Clinton said he would not meet privately with Mahathir in protest of Anwar's apparent beating in jail.
FOR THE BENEFIT OF MALAYSIA READERS...THANK YOU