Lawyers in Anwar trial spar over report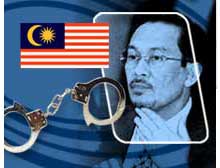 November 9, 1998 next article click here
Web posted at: 4:47 a.m. EST (0947 GMT)

KUALA LUMPUR (Reuters) - The prosecution in the trial of sacked Malaysian finance minister Anwar Ibrahim said on Monday that there was no police report implicating senior government officials in a 1997 plot to drive him from office.

But defense lawyers insisted on the sixth day of the corruption and sex trial that such a report existed, and a senior police officer testified that high-ranking officials had met individuals implicated in a possible smear campaign.

The defense said on Friday that the report, dated September 3, 1997, linked at least two government ministers to a possible plan to smear Anwar's name through allegations of sexual misconduct, which he has denied.

The defense said the report, like an earlier one dated August 20, 1997, had been written by outgoing police intelligence chief Mohamed Said Awang and given to Prime Minister Mahathir Mohamad.
Focal point of dissent
Judge Augustine Paul on Friday ordered the prosecution to try to obtain a copy of a report.

"For the record, I wish to state the prosecution has been informed that there is no report dated 3rd of September, 1997, addressed to the PM (prime minister), signed or unsigned," prosecutor Abdul Gani Patail told the court on Monday.

But defense lawyer Christopher Fernando said Anwar, who has pleaded not guilty to 10 counts of corruption and sodomy, was sure such a report existed.

"My client is sure of it, he has read it and even knows the contents," Fernando said.

The judge told the prosecution to produce an active member of the police intelligence wing to testify on the matter.

Anwar's trial is the focal point of dissent in Malaysia, where protesters have launched sporadic street demonstrations calling on Mahathir to step down after 17 years in power.

The prosecution is trying to prove that Anwar used his power as deputy prime minister and finance minister to interfere with a police investigation into allegations of sexual misconduct to protect himself.

Mohamed Said, who ended his testimony on Monday after five days in the witness stand, wrote the report dated August 20, 1997, which was sent to Mahathir and which said the allegations by the sister of Anwar's former private secretary and his former driver were baseless.

The report, produced in court on Friday, said the allegations seemed part of a shadowy conspiracy to smear Anwar, and it named a sacked police officer, Mohd Taib Salamon, as being possibly behind the plot. Mohamed Said said another man named B.K. Tan could also have been involved.

Mahathir has called Anwar morally unfit. The former prime-minister-in-waiting has said he was the victim of a high-level conspiracy to sideline him from power.

Anwar's lawyers said on Friday that a second report dated September 3, 1997, implicated officials close to Mahathir in the alleged conspiracy.
Letter retracts earlier allegations
The defense on Monday read from a 1997 letter by Ummi Hafilda Ali, the sister of Anwar's former private secretary, in which she retracted earlier allegations of sodomy by Anwar.

In the retraction, Ummi said she had handed a letter detailing the allegations to the wife of Domestic Trade Minister Megat Junid Megat Ayob, who then gave the letter to her husband who in turn gave it to Daim Zainuddin, a confidant of Mahathir who was named special functions minister in June.

Anwar lawyer Gurbachan Singh asked Mohamed Said if the retraction letter had pointed to a possible "frame-up."

"Yes, there is a sentence to that effect," said Mohamed Said, who retires from the police later this month.

Gurbachan asked Mohamed Said if Daim had met Ummi and Megat Junid's wife in his office, as stated in Ummi's retraction letter. "Yes, we have the intelligence on this," the police officer said.

Asked if Mahathir's political secretary, Aziz Shamsuddin, had met Mohd Taib and B.K. Tan, the outgoing police Special Branch director said: "Yes, we have the intelligence on this."

Before the court adjourned for the day, the prosecution called its second witness, Aziz bin Husin, a deputy superindendent of police with the Special Branch intelligence unit.

Aziz led the team of police who arrested Ummi and Azizan at a dentist's house in August 1997.

The prosecution asked Aziz to read from Ummi's original letter accusing Anwar of being a homosexual and having an illicit affair with the wife of his private secretary.

The trial was due to resume on Tuesday at 9 a.m. (0100 GMT). It was to adjourn on Friday ahead of the Asia-Pacific Economic Cooperation forum summit next week, before resuming on November 19.

Copyright 1998 Reuters Limited. All rights reserved.