KLIK SINI UNTUK BALASAN PADA DATUK HISAHAMUDIN
BN Youth sends protest note to embassy
KUALA LUMPUR: The Barisan Nasional Youth yesterday set up a 24-hour secretariat for the public to vent their anger and disgust at US Vice-President Al Gore for supporting the reformasi movement.

Umno Youth chief Datuk Hishammuddin Tun Hussein, who chaired the press conference attended by Barisan Youth leaders including the MCA, MIC and Gerakan, said the group also delivered a protest note to the US ambassador to Malaysia John Mallot.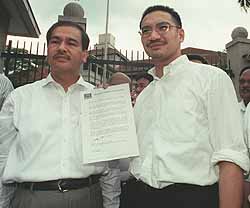 IN DISGUST...Hishamuddin (right) showing the protest note at the US embassy yesterday. With him is MCA Youth leader Chan Kong Choy.

He said the secretariat would provide ways and means as an avenue for the public to express their disgust over the US leaders.

"This is because often, the silent majority had no access to express their views. Thus, they can come to our office to write down their dissatisfaction. This includes a signature campaign of support for the Government," he said.

Hishammuddin said he did not know Gore's reason for making such statements.

"Neither do I care but he has slighted Malaysians. There is a limit to our patience," he said, adding that the United States had the attitude that Malaysia needed it more, and not vice-versa.

To a question on the protest note, Hishammuddin said: "It will go straight into the bin."

He added if the US leaders could say such statements to Malaysia then what were a few lines of protest by Youth leaders.

"But being a small country, what choice do we have?" he asked.