First shots fired
Nov 16, 1998 THANK YOU CELEKEH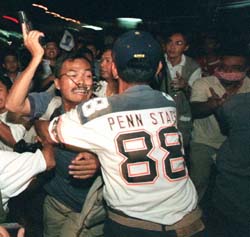 Stay away or I'll shoot: A press photographer, brandishing his gun even as the mob attacks him
HE was dressed like a press photographer.
He sported a multi-pocketed vest that many in the profession put on while on assignment.
He was also carrying a camera as he mingled with a group of about 50 anti-government protesters in Kampung Baru in the heart of the Malaysian capital on Saturday.
But one of the protesters recognised him as an undercover policeman.
That protester then asked him to leave.
As he tried to run away, the mob gave chase and caught up with him, reports said.
The man, seen here howling for help, fired a shot in the air.
It is the first time a gun has been fired since demonstrations broke out over the sacking of former deputy prime minister Anwar Ibrahim.
Anwar was sacked on Sept 2.
Another undercover policemen, in the same crowd, was also recognised by the mob.
He too fired a shot - also into the air.
No one was injured by the two gunshots.
Both policemen, said to be in their 30s, were kicked and punched as they ran from the mob.
They later escaped in a taxi about 150 m away, reports said.
The violence and scuffle of the weekend has marred Malaysia's image even as world leaders gather to talk trade at the Asia-Pacific Economic Cooperation gathering of world leaders this week.

ON SATURDAY: More than 1,000 supporters of Anwar gathered in the heart of the city.

The crowd burnt pictures of Prime Minister Mahathir Mohamad and torched a traffic policeman's motorcycle.

There were no reports of injuries or arrests as uniformed police kept their distance from the Kampung Baru area.

But as demonstrators were dispersing after several hours of shouting slogans, a dozen trucks carrying riot police and three water cannon trucks took positions in Kampung Baru in a belated show of force.

The security forces later pulled out.

At night, the protesters tried to march to a hotel complex where hundreds of US officials were staying for the Apec meeting. But they were stopped by riot police firing tear gas.


ON SUNDAY: On Sunday morning, small groups of uniformed police stood outside the glimmering Petronas Twin Towers. There were some bystanders too.

The latest demonstration underscored mounting tension between supporters of Dr Mahathir and Anwar.
Source: The Straits Times, Wire Services.


'Invite foreigners and lose freedom'

MALAYSIAN PM Dr Mahathir Mohamad is worried about a handful of Malaysians who keep exposing the country's internal problems to foreigners.

He told Bernama TV that these Malaysians then invite the foreigners to interfere in Malaysia's affairs.

Dr Mahathir warned that if these people continued to do so, then foreigners would decide who should lead Malaysia.

He referred to the situation in 1987, when he was challenged as Umno president and almost half of his cabinet left the party and Umno was subsequently declared unlawful.

"In 1987, there was no foreign interference. We do not seem to be a free and independent country any more.

"Our internal problems are exposed to others. I am worried that if we continue to do so, our freedom will be lost," he said. "This time, except for scores of people who do not hold important posts in the party, the others are giving me full support," he added.